People often want or need to move their loved one's ashes from one location to another, but did you know that there are strict rules and regulations on travelling with ashes? We can help you navigate them.
We've listed some common things you should consider if you are planning on travelling with ashes or trying to move them. 
Travelling With Ashes By Land 
Courier service for ashes
Most couriers (including Royal Mail, Parcelforce, Fedex, etc) expressly forbid you from using their services to transport ashes. If you choose to try, they will accept no liability for any issues with delivery and you could end up with a hefty fine. 
How we deliver ashes to you
At DirectCremation.co.uk, we don't outsource to couriers or anyone else. We hand deliver the ashes ourselves so we know they're safe. We offer delivery to anywhere in England and Wales, along with our wooden urn (pictured above) which has an engraved metal nameplate.
Moving the ashes yourself.
If you need to travel to scatter or inter the ashes yourself it is perfectly legal, but to avoid any problems it is a good idea to travel with a copy of the cremation certificate that we provide.
By Air – Taking Ashes on a Plane
If you need to fly with the ashes, most airlines specify that they must be brought on board by a passenger as carry-on luggage. Prior to flying, it's a good idea to speak to both the airline and the embassy or consulate of your destination country to see if they have any specific requirements.
You'll probably need to carry the correct documentation to identify the ashes and ensure that the ashes are kept in a container that is suitable for international travel.
You may need to provide:
The certificate of cremation – we provide this as standard.

A copy of the death certificate – you can request this from the registrar when you register the death. There will usually be a charge of around £12 for each copy.

A signed declaration by us. We're happy to provide this free of charge – just ask.

A certified extract from the registrar – this can be provided at an additional cost of £10 – just let us know and we will arrange this for you.
Some countries request a statement from the local health authority to confirm the ashes are free from contagious diseases, but this is rare.
Is DirectCremation.co.uk's urn suitable for international flights?
Our wooden urn is suitable for international travel to most destinations. The urn is sealed by six screws and it can be safely scanned in an X-ray machine during security checks. Our engraved metallic nameplate helps identify the ashes and the ashes themselves are secured in a bag with an identification label.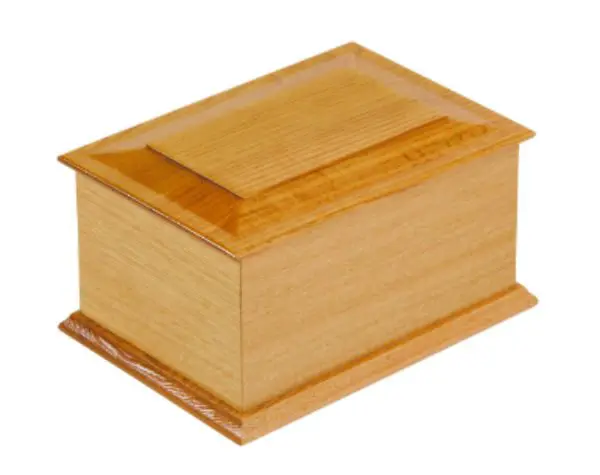 Please note, some countries have additional security requirements, including asking for wax seals to prove the urn has not been tampered with during transit. It is best to check with the airline and the destination country when booking your flights 
Taking ashes on a boat
Typically the same rules apply for transporting your loved one's ashes on a boat as they would do on a plane. The urn must be brought on as hand luggage with the appropriate paperwork.
Are you planning to scatter the ashes at sea? That is fine. You don't have to ask anyone's permission unless you are planning on scattering into an enclosed body of water where the water quality could be affected. 
Any questions? Get in touch with our team by email: [email protected] or call 0800 133 7961. We'll do our best to help.
See our news section for more information about us, including direct cremations in London