Our guide to understanding direct cremation pricing 
If you're looking for the cheapest direct cremation, We will help to outline the procedures and costs. Organising a funeral is never easy and sadly some funeral firms make the process even harder by making their pricing unnecessarily complicated and difficult to understand. 
Direct Cremation not only promises transparent and fair pricing, we guarantee to offer the lowest cost direct cremation in England and Wales.  And because we genuinely care about our customers, we do this without compromising on our high standards of service and care.
Our direct cremation service is £895 which includes transportation from any hospital or coroner's court in England or Wales, a simple environmentally-friendly coffin, a private cremation at one of our partner crematoria, and the scattering ashes in our gardens of remembrance.
Direct cremation price comparison chart

Ashes delivered by hand
For an extra £91 we will hand-deliver the ashes to you in a contemporary urn. We place the ashes in a British-made veneered oak urn with an engraved metal nameplate and then deliver them to you personally. We will never outsource delivery to a third-party courier because ashes are irreplaceable and need to be treated with the utmost care and respect.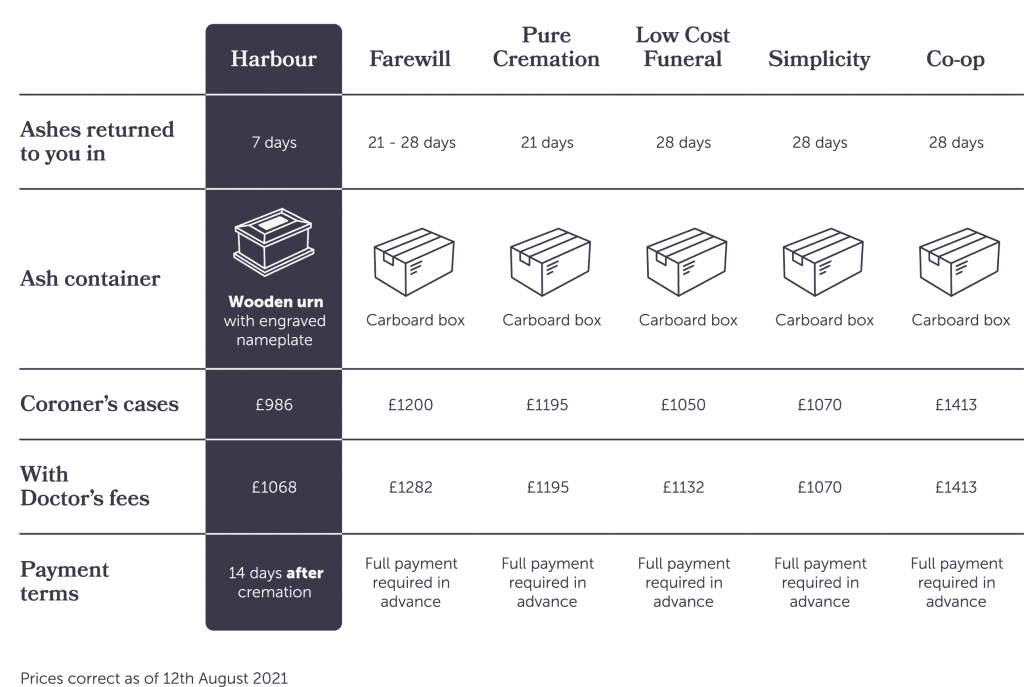 Out of hours services 
Funeral services must be ready to respond at all hours of the day and night. Out of hours services are more expensive but this is often not included as a highlighted charge. Here is a price comparison of direct cremation including doctor's fees, out of hours home collection, and delivering the ashes back to you.

We are proud to offer the cheapest direct cremation combined with excellent service. 
*Please check with the latest advice on funerals regarding coronavirus legislation